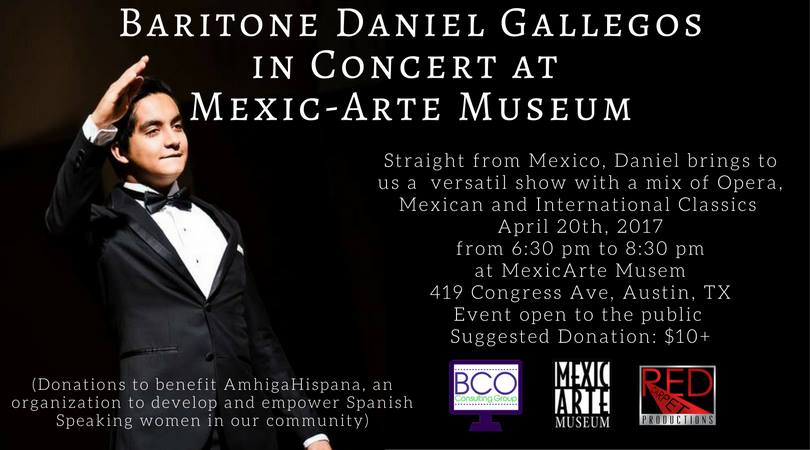 Baritone Daniel Gallegos in Concert at Mexic-Arte Museum
Who: Daniel Gallegos
What: Mexican Baritone in Concert at Mexic-Arte Museum for a fundraiser for Amhiga Hispana organized by Mexic-Arte Museum, Red Carpet Productions and BCO Consulting Group.
When: April 20th, 2017 from 6:30 pm to 8:30 pm
Where: Mexic-Arte Museum (419 Congress Ave, Austin, TX)
Cost: Suggested Donation of 10+ to fundraise for Amhiga Hispana
Daniel Gallegos is originally from Chihuahua, Mexico. He studied at the Music Conservatory of Chihuahua and the Taller de Opera in Sinaloa. He currently resides in Mexico City where he continues his studies at Sociedad Internacional de Valores al Arte Mexicano (SIVAM).
He has received master classes and coaching from Armando Mora, Enrique Patrón de Rueda, Amelia Sierra, Bernardo Villalobos, Joan Domemann, Maureen O'Flynn, Genaro Sulvaran, Andre Dos Santos, Cesar Ulloa, Denise Masse, Vlad Iftinca, Angel Rodriguez, Teresa Rodriguez, among others.
He has performed in the following operas: La Traviata (Baron Douphol), Gianni Schicchi (Pinellino y Betto), Falstaff, I Pagliacci, Die Zauberflote (Papageno), L'elisir d'amore (Balcore) and Carmen (Morales).
Daniel won 4th place in the Concurso de Opera San Miguel 2016, and was a semifinalist in Concurso Nacional de Canto Carlo Morelli 2015 and the 7o Concurso Internacional de Canto Sinaloa 2015.
Here are a few videos that show Daniel Gallegos performing:
https://youtu.be/8Pxn-wXI97g
https://youtu.be/K_XB5P73voY
https://youtu.be/cdJ7RAS5yO8
Straight from Mexico, Daniel brings to us a versatile show with a mix of Opera, Mexican & International Classics such as Cielito Lindo, Aleluya, Dime Que Sí, Sombras, La Gloria Eres Tú, México Lindo y Querido, A Mi Manera, Granada, Júrame, Hermoso Cariño, Humo en los Ojos plus two operas.
The raised funds will be used to continue the efforts of Amhiga Hispana, a is a nonprofit organization born in Austin Texas that aims to empower and develop Spanish speaking women to provide them with the development tools they need to integrate to their communities and increase their family's quality of life and their own. www.AmhigaHispana.org
The event is brought to you by:
Mexic-Arte Museum is an institution dedicated to cultural enrichment and education through the collection, preservation and presentation of traditional and contemporary Mexican, Latino, and Latin American art and culture to promote dialogue and develop understanding for visitors of all ages. More about Mexic-Arte Museum: http://www.mexic-artemuseum.org/
Red Carpet Productions, is an Austin based company that provides promotional and marketing services. Their mission is to increase its clients' sales by enriching their customers' experience through a combination of marketing activities customized for each brand. More about Red Carpet Productions: http://redcarpet-productions.com/
BCO Consulting Group is a business consulting Company offering various services including bilingual community outreach, business development, and market research, process standardization and quality controls. For more information please visit www.BCOConsultingGroup.com